Londonderry Backyard Summer Camp 2019
Summer days aren't lazy at Londonderry's Backyard Summer Camp. Children ages 4 (Pre-K) through 6th grade enjoy tending and harvesting the gardens, cooking, exploring and building structures in the wooded areas of the playground, creating crafts, dancing, playing games, and making new friends. Certified teachers weave cross-curricular learning opportunities into hands-on activities and play.  Weekly yoga, STEAM, and music classes are highlights. Pizza picnics are a Friday treat. To paraphrase one of the school's founders, "Children will want to protect nature as adults when they have directly experienced nature as children." At Backyard Summer Camp, staff takes every opportunity to help children develop their appreciation for the natural world. Whether composting, admiring visiting owls, growing seeds or dodging raindrops in bathing suits as part of water play, children joyfully connect with their environment every day.
Arts and Crafts • Games • Music • Nature Activities • Gardening • Cooking • Free-Play • Reading • Yoga • Hands-on-Learning • STEM Programs •  Animal Visitors • Pizza Fridays • New Friends • Outstanding Staff
To reserve a place for your child, download the registration form

:
Call Susan Kempski at (717) 512-6010 if you have any questions.  Places are limited so please register early.
Hours: 8-5 (Camp day is 8:30-3:30. Before and after camp childcare is included).
Fees: $210 per week (full-day)   $120 per week (half-day)(8:30-1:00)
Ages: Junior Campers (ages 4-5)  Senior Campers (ages 6-12)
Location: Londonderry School, 1800 Bamberger Road, Harrisburg, PA 17110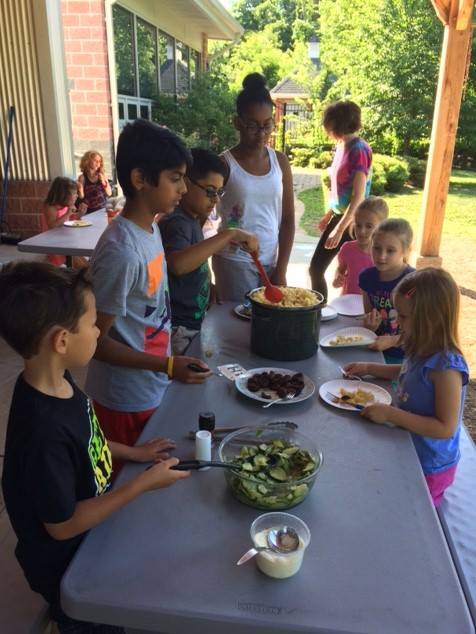 Week 1   (June 17)   Masterpiece Makers
Week 2   (June 24)   Going Green
Week 3   (July 1)       Ocean Exploration
Week 4   (July 8)       Nature Discovery (closed July 4th)
Week 5   (July 15)     Farm to Table Cooking
Week 6   (July 22)    Inventors' Workshop
Week 7   (July 29)    Broadway Bound
Week 8   (Aug. 5)     Cooking Around the World
Week 9   (Aug. 12)   Bookworms
Special Mini Camps  (Hours: 9-1   Fee: $155)
Music (ages 4-5)  July 8-12 (Music Camp is full.  We are hoping to add a second week.  Please check back in early April)
Rockets (ages 8 and up) June 17-21