Hello, Londonderry families! Welcome to a brand new year, and a brand new Londonderry blog! We are so excited to use our blog to share exciting news and information with all of you, and what better way to start than with a spotlight on how our awesome teachers and staff are incorporating STEAM into our school?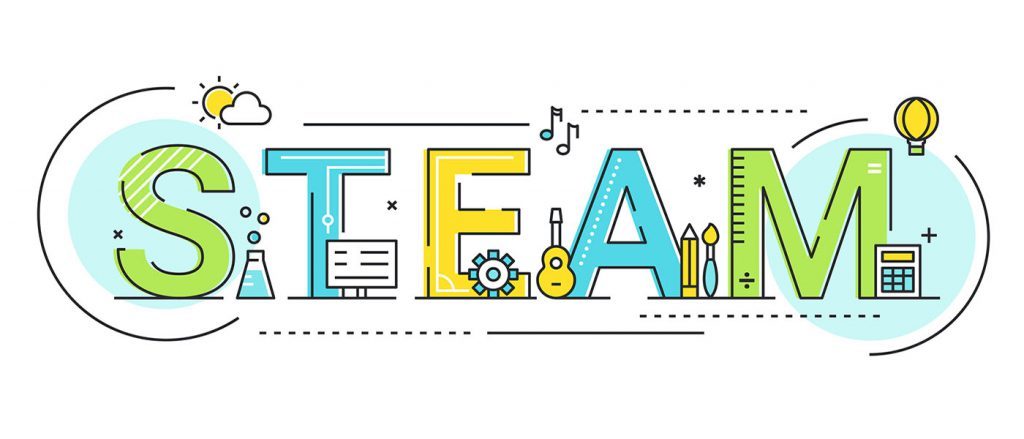 STEM (Science, Technology, Engineering, Math) is a movement in education that focuses on preparing children to be creative, lifelong learners able to incorporate these crucial areas into their lives, education, and future careers (for more information on the STEM movement, visit the Smithsonian's STEM info site here). STEAM goes even further to incorporate the importance of art and creativity into the field, and it encourages our students to be forward thinkers with brilliant ideas to shape the future! Here at Londonderry, we are dedicated to educating the whole child and creating bright futures, and STEAM is one of our teachers' favorite ways to incorporate science, art, creativity, and problem-solving into their classrooms. Read on to find out how Londonderry is making waves in the world of STEAM….
STEAM in Elementary
One exciting STEAM venture at Londonderry is being led by our very own Colleen Rudegeair and Judy Bower, who spent two weeks this summer in Washington, D.C. as part of the Smithsonian National Air and Space Museum's Teacher Innovator Institute. As part of their project, Colleen and Judy are leading a 5th and 6th grade unit, "It's About Time!", that will conclude with students building their very own timekeeping devices! Colleen has also established a Makerspace within her room, where students are encouraged to freely design and construct their own creations, in addition to weekly STEM-based team challenges in both Colleen and Margaret's classrooms.
In addition to a long-term time unit, Judy and the 7th and 8th graders have been diving into a study about bay health, with a heavy emphasis on how STEM plays a crucial role in keeping the Chesapeake Bay healthy. The 7th and 8th graders will be doing an investigative study, establishing and running a one-night-only restaurant with bay-friendly menu options, and will conclude their unit with a trip to the Bay itself!
But 5th-8th graders aren't the only ones STEAMing ahead! In his room, Pete has created his very own "STEAM Engine," with countless materials for students to complete art, design, and engineering projects and tasks, in addition to the LEGO city where students have a blast creating their very own LEGO world. A STEM center is also underway in Laura's room, where she hopes to allow students to design and create during math rotations; not to mention her regularly-scheduled STEM challenges as well! In 1st and 2nd grades, students enjoy STEAM concepts incorporated into daily tasks and lessons, team challenges, and even a take-apart center in Ellie's room, where students get to deconstruct and learn about different devices!
STEAM in Early Childhood
Despite STEAM incorporating challenging tasks and materials, STEAM can start as early as pre-school…something that our pre-school teachers love to bring into their classrooms! If not busy learning STEAM aspects throughout their day with lessons, building toys, and STEAM teaching tools in Meredith and Vanessa's room, pre-schoolers can be found completing STEAM challenges with Sarah, or even designing, discussing, and building an entire Quiet House or Quiet Cave in Natalie's class! Our pre-schoolers are challenged to work with each other and think outside of the box as they work through units where they develop not only their academic, social, and emotional skills, but their problem-solving and creative skills as well!
Meanwhile, our kindergarteners can be found building on these same fundamentals in Megan's room and Suzanne's room. Students enjoy STEAM challenges that tie into their current unit of study. For example, Megan's class just recently read "Chicka Chicka Boom Boom"; after reading, her students built their very own alphabet trees, seeing how many letters they could get to balance on the tall, tall branches! Keep it up, Kindergarten!
Save the Date: Schoolwide STEAM Events
Friday, November 8: Chesapeake Bay Dinner – The 7th/8th graders will be serving bay-healthy menu items at this fundraising dinner. Look out for more details coming soon!
Thursday, December 12: 5th and 6th grade Evening at the Time Museum – Colleen and Margaret's classes will be creating a museum to show off their timekeeping devices! Invitations to follow.
Friday, February 7: Kidwind Spaghetti Dinner – Kidwind presents: "Windy with a Chance of Meat Sauce!" Come have a delicious dinner and support Kidwind as they prepare for their competition.
Tuesday, March 10: CASEF – Students who are competing in the Capital Area Science and Engineering Fair will display their projects! Please note, this date is NOT the public viewing.
Wednesday, March 11 and Thursday, March 12: CASEF projects will be available for public viewing at HACC. Free parking and admission!
Friday, March 13: All School Play – Students work hard to learn lines and create sets, costumes, and beautiful sound and light effects for our all-school play at the Scottish Rite Theatre!
Tuesday, March 24: Londonderry Kidwind – This will be an at-school Kidwind competition to determine the three teams that will move on to the statewide competition!
Tuesday, April 7: Kidwind State Competition – Held at Penn State's main campus, our Kidwind teams will compete to see whose turbine can create the most power! Please note, this event is not open to the public.
Friday, June 5: Computer Show – Students in grades K-8 will show off the hard work they have been doing in computer class as they learn to code with Logo and MicroWorlds.
TBD: Team America Rocketry Challenge (TARC) – Students will compete in this rocketry challenge, hosted by Judy here at Londonderry!
TBD: Yurt Raising at Londonderry – Stay tuned for more information about our yurt-raising day! All families and alum are welcome!